11-3380 Plumeria Street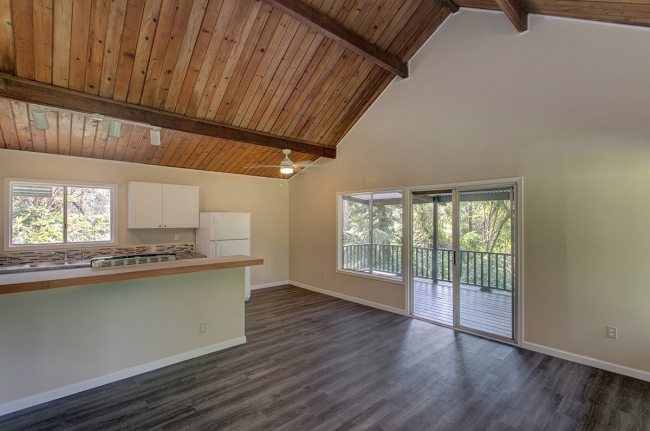 Currently accepting back up offers.
Beautifully remodeled two bedroom one bath home on two acres of land located on the big island of Hawaii.

Clean and ready to move in.

Recent upgrades include:

*Fresh paint inside & out, including the roof!
*Newly installed exterior lighting
*Newly installed interior light fixtures
*Newly installed front gate
*Newly installed graveled driveway
*Newly installed flooring
*Newly installed kitchen cabinets
*Newly installed kitchen fan
*Newly installed kitchen countertops
*Newly installed kitchen appliances
*Newly installed electric water heater
*Newly installed toilet, sink & bathtub
*Newly installed pressure tank
*Newly installed smoke detectors

This lovely refurbished post & pier designed 2b/1b home has 900 square feet of living space, and includes a loft and a spacious 396 square foot deck.

A detached 160 square foot carport with garage door is located behind the home, would be an ideal place to use as a workshop.

Laundry room with hook-ups located inside the houses.

Prime location at the front section of the Fern Acres subdivision.

Home is nestled in the old growth trees across from the corner intersection of Plumeria & Rose Street.

Cable TV, phone & Internet access via Spectrum.

Paved road with overhead power.

Includes two catchment tanks.

Enjoy the cool country setting of Mountain View, Hawaii estimated elevation is located between 1300 to 1400 feet.

Lava zone 3.

Deep soil for gardening.

Property is landscaped with mature plants, ohia trees, pine trees, anthuriums, heliconias, kumquats, avocados & more.



MLS Number: 624985
Acres: 2